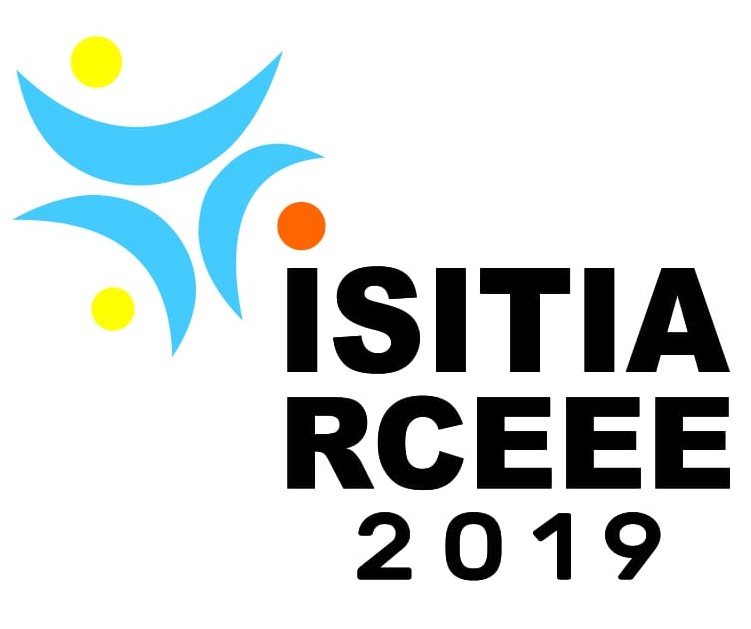 2019 International Seminar on Intelligent Technology and Its Applications, &
12th AUN/SEED-Net Regional Conference in Electrical and Electronics Engineering 2019

28 – 29 August 2019, JW Marriott, Surabaya, Indonesia







Technical session presentation schedule Day 2 is available now, shown below. Code: IS*** : ISITIARC***: RCEEEPS  : Power and SystemsHV : High Voltage EngineeringBM: Biomedical EngineeringAI   : Artificial Intelligence & Machine LearningTL  : TelecommunicationsIT : Information TechnologyCE : Computer EngineeringSN:…
Joint conference theme: Creating Impact through Intelligent Devices and Systems
The International Seminar on Intelligent Technology and Its Applications (ISITIA) is the annual international conference held by the Department of Electrical Engineering of the Institut Teknologi Sepuluh Nopember (ITS), Surabaya, Indonesia.
This year, ISITIA 2019 is proud to be held in conjunction with the 12th Regional Conference on Electrical & Electronic Engineering (RCEEE2019). ISITIA 2019 is co-sponsored by IEEE Indonesia Section, whereas RCEEE is sponsored by Japan International Cooperation Agency (JICA) for AUN/SEED-Net. RCEEE is an annual conference organized by member institutions of AUN/SEED-Net with the purpose to present research outputs of the AUN/SEED-Net network and to pursue discussions on future collaborative research topics. The ISITIA 2019 and RCEEE 2019 will be held at the JW Marriott Hotel, Surabaya, Indonesia.
We welcome paper submissions of original research in the following topics, but not limited to:
Electronics (VLSI, Embedded Systems, Sensors, IoT Devices, Biomedical Circuits, Data Converters, Mixed-Signal Circuits, Microelectronics)
Control Systems (Robotics, Industrial Applications, Autonomous Vehicles)
Power and Energy Systems (Renewable Energy, High Voltage Engineering, Energy Conversion, AI in Power Systems, Energy Storage, Smart Grid)
Telecommunications & Signal Processing (Antenna, Network, Satellite, Image Compression, Wireless Sensor Network)
Information Technology (Information Systems, Telematics, Security, ICT, Artificial Intelligence, Virtual Reality, IT in Education)

Biomedical Engineering (Biomedical signal and image processing, telemedicine, medical imaging)
Full paper submission (extended):
2 May 2019 20 May 2019 2 June 2019

Notification of acceptance:
28 June 2019 1 July 2019

Early Bird Registration:
22 July 2019
Camera ready:
11 July 2019 24 July 2019

Conference:
28 – 29 August 2019
Manuscript submission:
10 July 2019 15 July 2019

Notification of acceptance:
29 July 2019
Camera ready:
5 August 2019
Conference:
28 – 29 August 2019
RCEEE publication and submission guidelines
Papers submitted to the RCEEE 2019 conference will be reviewed separately from ISITIA 2019. Members of the TPC of RCEEE 2019 will mostly come from ASEAN University Network members as well as editors of the
ASEAN Engineering Journal
. Accepted papers in RCEEE 2019 will appear in a proceeding that will be published as a printed publication. Selected papers that are accepted in RCEEE 2019 will be recommended to be submitted to ASEAN Engineering Journal (AEJ). ASEAN Engineering Journal is now
indexed in Scopus
.
UPDATE: For the review process, authors from AUN/SEED-Net member countries Cambodia, Laos, and Myanmar may submit a two-pages extended abstract.
ISITIA publication and submission guidelines
Papers submitted to ISITIA, and are accepted and presented in ISITIA 2019 will be submitted to IEEE for the purpose of publication in IEEE Xplore Digital Library.
IEEE Conference Record Number : #47536
IEEE Catalog Number:
XPLORE COMPLIANT: CFP19TIA-ART, ISBN: 978-1-7281-3749-0
USB: CFP19TIA-USB, ISBN: 978-1-7281-3748-3
Papers should be written in the IEEE conference style two-columns format between 4 – 6 pages.
Previous ISITIA in IEEExplore
ASEAN University Network/Southeast Asia Engineering Education Development Network (AUN/SEED-Net) has been established to promote human resource development in engineering for sustainable socio-economic development of the ASEAN region. The network consists of 26 member institutions in ASEAN with assistance from 14 Japanese supporting universities. The regional conferences aims at maximizing the outreach of the AUN/SEED-Net Network for stronger impacts by involving external participants such as representatives from the government, industry, community, non-Member Institutions (MIs), and other professional organizations.
Previous RCEEE conferences: 
RCEEE 2018 in Penang, Malaysia
RCEEE 2017 in Surabaya, Indonesia.
Organizer: Department of Electrical Engineering, Institut Teknologi Sepuluh Nopember
Sponsors:
AUN/SEED-Net
JICA
IEEE Indonesia Section
IEEE Student Branch – Institut Teknologi Sepuluh Nopember
General Chair: Dr. Astria Nur Irfansyah (ITS)
Vice-chair: Dr. Trihastuti Agustinah (ITS)
Secretary: Zulkifli Hidayat (ITS)
Technical programs: Dr. Totok Mujiono (ITS)
Publication: Dr. Feby Agung Pamuji (ITS)
Treasurer: Dr. Muhammad Attamimi (ITS)
Transportation: Fajar Budiman, M.Sc (ITS)