Mount Bromo – watch volcano
---

Mount Bromo (Indonesian: Gunung Bromo), is an active volcano and part of the Tengger massif, in East Java, Indonesia. At 2,329 metres (7,641 ft) it is not the highest peak of the massif, but is the most well known. The massif area is one of the most visited tourist attractions in East Java, Indonesia. The volcano belongs to the Bromo Tengger Semeru National Park. The name of Bromo derived from Javanese pronunciation of Brahma, the Hindu creator god.
Surabaya Al-Akbar National Mosque
---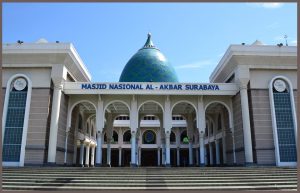 Al Akbar Mosque, also known as Great Mosque of Surabaya, is a national mosque located in Surabaya, East Java. It is the second largest mosque in Indonesia after Istiqlal Mosque in Jakarta in terms of maximum capacity.[1] The location of the mosque is beside the Surabaya-Porong Highway Road. Its most distinctive feature is its large vertical dome, accompanied by four small blue domes. It also has a minaret with height of 99 meters, an ode to the 99 Names of Allah.
Ijen Crater
---

Ijen plateau or known as 'Kawah Ijen' is highly recommended to mountain buffs and hikers. The Plateau was at one time a huge active crater, 134 sq km in area. Ijen is a quiet but active volcano, and the landscape is dominated by the volcanic cones of Ijen (2,368 asl) and Merapi (2,800 asl) on the northeastern edge of the Plateau, and Raung (3,332 asl) on the southwest corner. The vent is a source of sulfur and collectors work here, making the trek up to the crater and down to the lake every day.
Batu Secret Zoo
---

Batu Secret Zoo is an official site of Jawa Timur Park or Jatim Park 2 that located in Batu city, East Java. Batu Secret Zoo is a modern zoo, complete with the high architectural design and numbers of animals' collection. This zoo can be accessed for about 30n minutes from Malang city or 90 minutes from Surabaya. Moreover, this location is also near to other recreational park, which is Batu Night Spectacular or BNS.
Tugu Pahlawan (Heroes Monument)
---

The Heroes Monument (Indonesian:Tugu Pahlawan) is a monument in Surabaya, Indonesia. It is the main symbol of the city, dedicated to the people who died during the Battle of Surabaya on November 10, 1945. The 10 November Museum is located under the monument.
This monument is 41.15 meters tall and is phallus-shaped. It was built to commemorate the events of 10 November 1945 at the Battle of Surabaya. It is the venue every November 10 for the commemoration of the events of 1945, when many heroes died in the war of independence.