Welcome to  3rd Geomatics International Conference (GEOICON) 2018 …
The 3rd Geomatics International Conference (GEOICON) 2018 is an annual scientific meeting in the field of geomatics engineering held by Department of Geomatics Engineering, Institut Teknologi Sepuluh Nopember (ITS), Surabaya. The conference aims to be a forum for sharing the knowledge and experience, and promote ideas between researchers, academicians, goverment, and professionals in future research of geospatial science and technology. This year The 3rd GEOICON 2018 explores the theme "Geospatial Technology for Mapping The Future: Human Civilization Development". The theme is chosen along with our belief that the geospatial technology will contribute signicifantly in shaping the future of human civilization development.
The conference will be held on July 12th 2018 in Surabaya and hosted by Department of Geomatics Engineering ITS Surabaya. The speakers of the event comes from many backgrounds such as government, industry, and academics. These various backgrounds are expected to be suitable for discussing the main topics from many perspectives and aspects. In total there are 91 scientific papers comes from many fields of study and countries which the authors consist of researcher, students, government staffs, professionals, and societies. They come from Germany, United States of America, Malaysia, Singapore, and Indonesia. These abstract will be presented within the conference and should provide opportunity for comprehensive discussion. The abstracts are divided into eight main conference tracks, i.e. (A) Geodesy and Geomatics, (B) Geology and Geophysics, (C) Spatial Data Infrastructure, (D) Geography and Urban Environment, (E) Agriculture and Forestry, (F) Mining and Energy, (G) Cadastral Mapping, (H) Marine Environment. The successfully selected paper will be published in Scopus-indexed publication.
Finally, we would like to appreciate the fellow members of the Technical Organizing Committee, Steering Committee and Organizing Committee for their hard work in securing a substantial input of papers, preparing the conference, and encouraging participants from many different fields. We also acknowledge all the authors, as without their expert input there would have been no conference. We would also like to extent our gratitude to all contributing sponsors for their many ways of assistance especially for the funding. We also acknowledge the important contributions of Rector of ITS and Head of Department of Geomatics Engineering ITS. The success of The 3rd GEOICON 2018 will be a catalyst for our confidence to organize the next event in 2019.
Thank you for attending our conference and enjoy the city of Surabaya …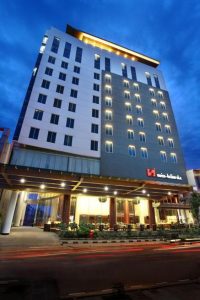 Hotel Swiss-Belinn Manyar Surabaya
Jl. Manyar Kertoarjo No.100, Manyar Sabrangan, Mulyorejo
Kota Surabaya, Jawa Timur 60231
Phone: (031)5946868
swiss-belhotel.com